The present-day Heiltsuk (formerly the Bella Bella) Band of Indians are the main descendents of Hailhzaqvla-speaking peoples who inhabited an area of approximately 6000 sq. miles in the central coastal region of what is today known as British Columbia. Heiltsuk traditional territory extends from the southern tip of Calvert Island, up Dean and Burke Channels as far as Kimsquit and the head of Dean Inlet to the northeast, and up the Mathieson and Finlayson Channels to the north. It includes Roscoe, Cousins and Spiller Inlets, and Ellerslie Lake, and the outer coast regions of Milbanke Sound, Queens Sound, and the Goose Island Group and Calvert.
GOAL:  To create an immediate temporary space for an Employment Centre and plan for and construct a multi purpose structure that would include Heiltsuk College, MCFNTS, and Employment and Training Centre by 2020.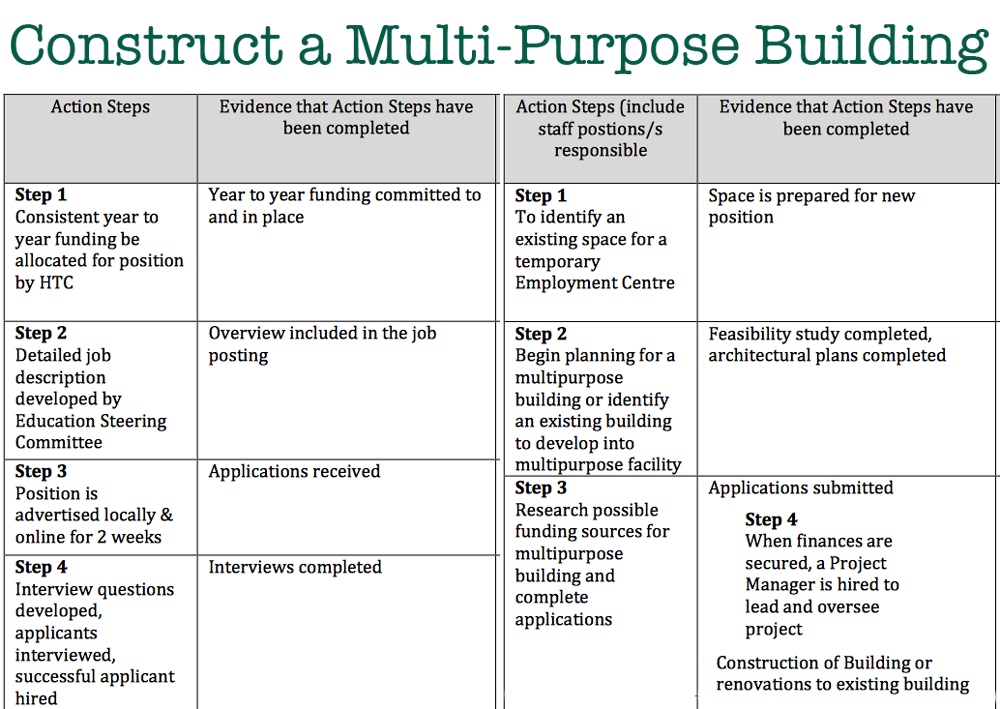 The word "Heiltsuk"
---
"Heiltsuk", according to grandmother, Hilistis Beatrice Brown (pers. communication) originally referred to all Aboriginal people or groups elsewhere. For example, the Gitsxan would have been referred to as "Heiltsuk". Over time as Indian Bands and reserves were established, we were registered as the "Bella Bella Band" which then changed to become "Heiltsuk" as our formal title name.
There is also reference to "Heiltsuk" meaning "to speak and act in the right way", which would reflect a traditional value that was a foundation of our principles and relations.
The Heiltsuk College is a First Nations owned and operated community college located in Bella Bella and it offers academic programs or training in the post secondary areas. Waglisla Adult Learning Centre is a seamless adjunct of Heiltsuk College and it offers upgrading programs from basic literacy to Adult Dogwood Grade 12 graduation. This educational institution has been in place for approximately 40 years and is housed in a church basement and in two aging portable trailers. Heiltsuk College is a founding member of the Indigenous Adult & Higher Learning Association which has 40 First Nations colleges located in B.C. ~ www.IAHLA.ca
Aboriginal Student Transitions Handbook: Based on the history of successful transitions of Heiltsuk College students from Bella Bella to off-reserve continued education or training, IAHLA took notice and wanted to research what made our college unique in this way. When Joann Green was an instructor, she developed a "College Survival Skills" mini-course that was a mandatory course for any student who planned to leave the community to attend further education or training elsewhere. Its focus is life skills training, but also gave students a practical tool for navigating systems in the city such as the transit buses, applying for rental units, etc. The student supports didn't end when a student left town—they continued to be supported long distance and received encouragement, Heiltsuk food gifts or whatever else was required to make their transitions easier. IAHLA worked together with UVIC and NVIT to do create the Handbook and out of this came the ongoing practice of hosting aboriginal students on campuses in order to give them direct experiences and inspire them to move forward. Several Heiltsuk university students have participated and benefited from this initiative including Jessica Humchitt, who is enrolled in Health Sciences at SFU. This wrap-around service is seen as a best practice because it is a natural process that not only supports but also dignifies students.