March 21, 2021: The Province article — click on the link right below or open a PDF version of it.
Linked here: Douglas Todd: "Please bring us more books" First Nations librarians ask.
PDF version opens here.
March 20, 2021: Vancouver Sun article — click on the link right below, or open a PDF version of the article.
Linked here: Douglas Todd: "Please bring us more books" First Nations librarians ask.
PDF version opens here.
————————————————————————————————————–

March 2021: GoodMinds is a book publisher and distributor with a difference. GoodMinds.com sources and makes available the highest quality and most recently published Indigenous books available in Canada today. GoodMinds also supports the success of Indigenous writers and publishers by making their best and most recent materials known and available. Their stock includes materials about most First Nations as well as general subject categories for every grade level. Under owner Jeff Burnham GoodMinds have been supporting Write to Read libraries for some time and the good news is that the new owner will continue that support.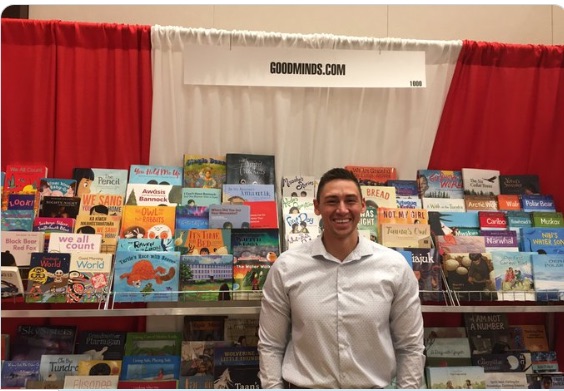 New owner Achilles Gentle and his family are respected Ojibwe members of Skownan First Nation, Treaty 2 Territory in Manitoba. Achilles is the founder of The Teacher's Crate, a subscription box service specializing in supplies for teachers. Achilles' mother Sandra Samatte has been an educator for the past 22 years and has committed her personal and career aspirations to the enhancement of Indigenous Education and the well-being of First Nations children. Sandra's focus is centered on creating Indigenous educational resources that assist teachers on implementing Indigenous education in the classroom in a way that is respectful and culturally appropriate.
GoodMinds.com will also continue to donate 5 percent of sales to the SILT FUND (Supporting Indigenous Libraries Today) to support Indigenous communities that do not currently have a public library, and to help existing First Nations public libraries to enhance and expand. This relationship with W2R goes back several years and is one of the best amongst the many contributors.
March 2021: Petition for inclusion of the Cree language in Google Translate.
In other good news regarding Indigenous language, Montreal-based book publisher Joseph John has started a petition to encourage Google Translate to include Cree translation as a free service. His petition points out that Maori, the language of Aboriginal people in New Zealand, is available on Google Translate. There are approximately 50,000 Maori speakers, but data from Statistics Canada shows there are more than 96,000 Cree speakers in Canada.
Cree, part of the Algonquin language family, has nine dialects spoken from Labrador to the Northwest Territories. Simon Bird, the creator of Cree Simons Says (a Facebook group with more than 20,000 followers that teaches people how to speak the First Nations language) said he would welcome the addition of his native language to Google Translate as a tool for beginner or intermediate speakers.
Click on these links for more information:
Facebook group: #Cree Simon Says
National Post news article, February 2021: Online petition asks for Cree language to be added to Google Translate.
The two stories above were submitted by Michael McCarthy, one of the W2R Team members.