Healthy and safe spaces make community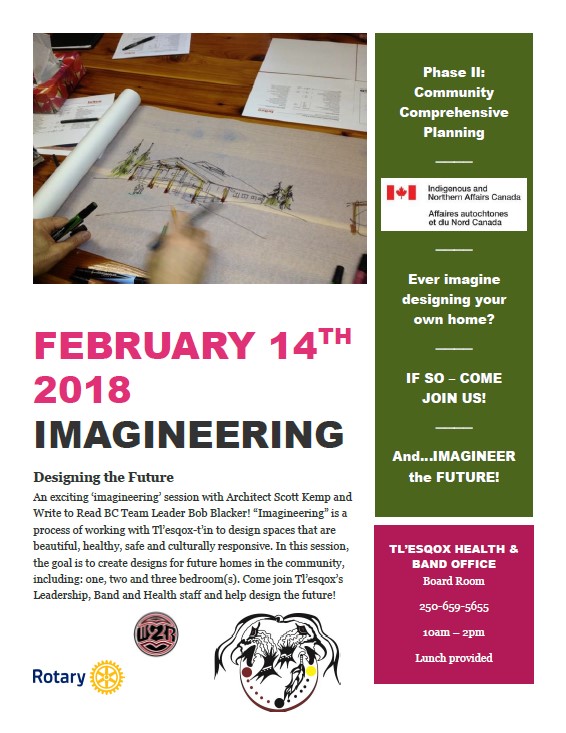 "Healthy and safe spaces make community." The "Imagineering" session brings Write to Read BC Team back to it's first community Tl'esqox – Toosey Indian Band. Architect Scott Kemp and Write to Read BC Team Leader Bob Blacker, join the Original Campion Sparkplug Shirley-Pat Chamberlain and the community of Tl'esqox to design the future.
"Imagineering" is a process of working with Tl'esqox-t'in to design spaces that are beautiful, healthy, safe and culturally responsive. Our goal is to create designs for future homes in the community, including: one, two and three bedroom(s).
This opportunity for continued partnership, participation, and power sharing came about as part of the Phase II of the Tl'esqox Comprehensive Community Planning process, funded through INAC's BC Capacity Initiative. Phase II's  priority is housing, focusing on policies, demographic data collection, current housing inspection, and designing culturally responsive homes.
The last point is key as potential houses coming into the Tsilhqot'in Nation as a result of negotiation with the Federal Government under the Tsilhqot'in Case aboriginal rights and title win in the Supreme Court will soon become a reality. Tl'esqox is being proactive so that the community is ready for any an all housing opportunities that present themselves. Tl'esqox and Write to Read BC Team are excited for this opportunity to imagineer the future!"